Kansai TV presents an exciting line up of live events and performing arts. Over the years, Kansai TV has produced, organized and promoted large scale events and performing arts to cater for all audiences.
Kansai TV has organized ten Japan tours of the dynamic dance entertainment shows "Burn the Floor" and "Floorplay", to a total audience of near 500,000!
Kansai TV also supports and sponsors the classic and traditional arts. We have organized Japan tours of the Paris Opera, Teatro San Carlo of Napoli and Teatro Verdi Trieste, and the "Osaka Heisei Nakamura-za" with star Kabuki actor Nakamura Kanzaburo in an Edo period Kabuki theatre.
We also hold the hugely popular Cirque du Soleil performances in Osaka, and recently held the immensely successful "Tutankhamun and the Golden Age of the Pharaohs" exhibition in Osaka.
Kansai TV continues to bring you the best in live entertainment!
Commemoration of the 50th Anniversary of the Normalization of Diplomatic Relations
Between Japan and China
Terracotta Warriors and Ancient China Heritage from the Qin and Han Dynasty
March 25th ~ May 22nd 2022
In 1974, a farmer digging a well in a field in China came upon the terracotta warriors by chance, and the world was amazed by this discovery of a huge number of life-sized pottery soldiers and horses made over 2000 years ago. The number is estimated to be about 8,000 pieces, and research still continues to this day.
The year 2022 marks 50 years from the normalization of diplomatic relations between Japan and China. To commemorate this occasion and place focus on the history of ancient China, the terracotta warriors who have been protecting the emperor since his death, will be on display in Japan.
In 221 B.C., Emperor Qin Shihuang established the first unified empire in Chinese history. The Han Empire founded later by Liu Bang was one of the golden ages of ancient China. This exhibition dynamically displays approximately 200 pieces of artifacts excavated in Guanzhong (present-day Shaanxi Province), the central region of the Qin and Han empires, including first-class cultural artifacts (a unique Chinese classification that refers to the finest and most valuable artifacts), which are being displayed for the first time in Japan. With the actual artifacts, visitors can observe the historical wonder of how the tiny terracotta warriors of the Warring States period became life-size terracotta warriors at the Mausoleum of the First Emperor, and then into smaller terracotta warriors at the Mausoleum of the Han Dynasty Emperors. The exhibition also focuses on the similarities between the Mausoleums of the First Emperor and Han Emperors and the pyramids of Egypt, and explores the mysteries of ancient mausoleums in the East and West through satellite images. This is a fascinating exhibition with fresh new perspectives.
Terracotta figure of general with robe / Qin Dynasty / H196 / Emperor Qinshihuang's Mausoleum Site Museum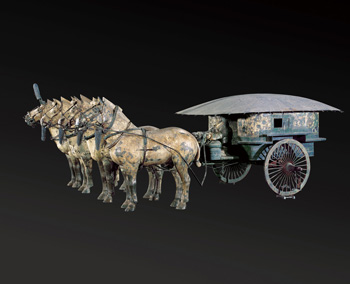 No.2 Bronze chariot (Replica on exhibit) / Qin Dynasty / Emperor Qinshihuang's Mausoleum Site Museum
Details
Dates

March 25th (Fri) to May 22nd (Sun), 2022
*Closed on Mondays (except for May 2nd)

Venue

Kyoto City Kyocera Museum of Art Main Building (North Wing) 2F

Opening hours

10am - 6pm
*Last admission 30 minutes before closing

Inquiry
Tickets
Admission Fee

| | |
| --- | --- |
| Adults | 2,000 JPY (1,800) |
| University and High School students | 1,500 JPY (1,300) |
| Elementary and Junior High students | 900 JPY (700) |
| Preschool children | Free |
Advance tickets and group tickets in parenthesis
( ) Advanced / Groups from 20 persons and over
Free admission for persons with disabilities and their caregivers (certificate required)
Organizers

City of Kyoto, The Sankei Shimbun, Kansai Television Co. Ltd., The Kyoto Shimbun, Shaanxi Provincial Cultural Heritage Administaration, Shaanxi History Museum(Shaanxi Cultural Heritage Promotion Center), Emperor Qinshihuang's Mausoleum Site Museum

With the support of

Ministry of Foreign Affairs of Japan, Embassy of the People's Republic of China in Japan, Japan-China Friendship Association

With the sponsorship of

Dai Nippon Printing Co., Ltd. (DNP)

Cooperation

Japan-China Cultural Exchange Association, Tokai University Research & Information Center

Supervision

Kazuyuki Tsuruma