Welcome to
Kansai TV!
Kansai Television Co. Ltd.(Kansai TV)is the leading commercial broadcasting TV station in the Kansai region, a diverse and energetic area encompassing major business cities Osaka and Kobe, ancient capitals Kyoto and Nara, and Shiga and Wakayama, prefectures of great natural beauty and sacred sites.
Affiliated with the Fuji Network System, Kansai TV caters both for local and nationwide audiences, providing great drama, sports, news, documentary and variety programs, as well as exciting live entertainment, mobile content and feature film production.
Kansai TV is a channel devoted to our audiences - switch to Channel 8 and feel the Power of Kansai !
Media Release
Kansai Television joins the UN SDG Media Compact
Released:2021.02.21
On February 1, 2021, Kansai Television Co. Ltd. joined the SDG Media Compact, a United Nations initiative calling for cooperation from media organizations around the world to promote efforts to achieve the SDGs (Sustainable Development Goals). As a media organization, we will deliver information to advance achievement of the 17 goals of the SDGs and to promote efforts to solve the issues of the SDGs.
We will proactively cover themes related to the SDGs through news and information programs and events, and deliver information toward solving social issues. In addition to providing information, we will also aim for new initiatives through cross-sectional cooperation between departments of the company and group companies.
Comments from the President
"All our operations have the potential to be linked to the SDGs."
With this is mind, Kansai Television signed the SDG Media Compact. Taking this opportunity, as a media company, we will enhance dissemination of information toward achieving the goals through our content and various activities.
In addition, as the Osaka-Kansai World Expo to be held in 2025 will be a cornerstone for achieving the SDGs, we will deepen our cooperation with local governments and businesses.
Shoichi Hamu
President and CEO
About the SDG Media Compact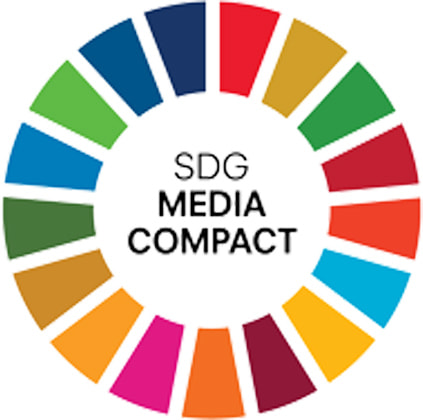 The 2030 Agenda for Sustainable Development adopted in 2015 by all 193 United Nations Member States set out a roadmap to transform our world. At the heart of "Agenda 2030" are 17 Sustainable Development Goals and 169 related targets that address the most urgent challenges of our time. The United Nations is inviting leading media organizations to join the SDG Media Compact in a collaboration aimed at scaling up engagement on the Sustainable Development Goal (SDGs). Each participating media organization may define for itself how to take action under this Media Compact, while upholding its own values, rules and policies.
While governments collectively set the Goals, achieving the SDGs by 2030 will also require concerted actions by civil society, businesses, international bodies, regional organizations, and individuals, among other actors. Media plays a particularly critical role in supporting public dialogue, enhancing knowledge of ways to support sustainable development, and hold Governments accountable. The SDG Media Compact aims to raise awareness of the Goals, help galvanize further action, and help hold governments to account for Agenda 2030.
(excerpt from the United Nations press release, September 10, 2018)
https://www.un.org/sustainabledevelopment/sdg-media-compact-about/
Inquiries

Corporate Administration Department, Kansai Television
csr@ktv.co.jp