Kansai TV Promotes Japanese Food Products in
Thailand with Variety Program
"Super Seller Nihon Market"
Media Release
Released:
As part of the Ministry of Internal Affairs and Communications' "Project to Reinforce Regional Information Transmission Capabilities through Broadcast Content under FY2020 Supplementary Budget and FY2021 Budget" Kansai TV has produced "Super Seller Nihon Market," a TV shopping-style variety program to promote Japanese agricultural and marine products to Thai consumers. The program will be aired on Amarin TV, a terrestrial broadcasting TV station in Thailand, from 11pm (local time) December 10.
As the return of tourists to Japan, who have greatly contributed to local regional economies, is not expected for some time, this program aims to contribute to revitalizing Japanese regional economies by expanding exports of agricultural and marine products. This program will "promote food products using broadcast content" and "conduct marketing surveys on general consumers and provide feedback to producers."
The program will be produced as a special edition of the popular Thai shopping program "Super Seller" and will introduce Tokushima Prefecture's specialties, "Naruto Kintoki Sweet potatoes" and "Naruto Tai Sea Bream." In the program, Bunshiri, a Thai celebrity living in Japan, reports from Tokushima on locals' recommended cooking methods. Governor of Tokushima Kamon Iizumi also appears on the program to promote Tokushima's agricultural and marine products to Thai viewers, while enjoying snacking on Naruto Kintoki.
The Naruto sea bream is made into a marinated rice bowl and sold on the e-commerce site, and the Naruto Kintoki is sent free of charge to those who purchase it. The consumers' feedback on the produce is collected in a survey, and the results forwarded to the producers. The project aims to expand distribution of Tokushima food produce, while also sharing information about the regional production area with the aim to promote inbound tourism to Tokushima Prefecture.
Kansai TV Hazz, an affiliated company of Kansai TV specializing in TV shopping and mail-order business, will procure the food products from Japanese producers. Kantana Japan, Joint Corporation of KANTANA, a major media group in Thailand, will be in charge of coordinating program production and distribution in Thailand.
Etsushi Ogawa (Executive Director, Content Business Bureau, Content Design Division, Kansai Television)
"This program was planned to contribute to the local economy through broadcast content, as the number of tourists from overseas is still not expected to recover. During the studio recording in Thailand, the cast members highly praised the Japanese foods each time they sampled them, so we are looking forward to very positive responses to the program. We have heard that in Thailand, where it is customary to eat at food stalls, the Covid-19 situation has created more opportunities to cook at home. We see this as a chance to bring high-quality Japanese food products to Thai tables on a daily basis"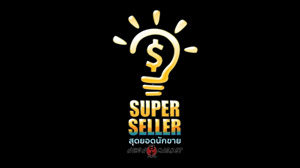 Super Seller Nihon Market
Broadcast date and time (Thailand time)
December 10, 2021, 23:00 - 23:30
Cast
Studio (Thailand) : DJ MATOOM, ICE SARUNYU, BELL, SPRITE, BABY MILED
Video (Tokushima) : Bunshiri, Kamon Iizumi (Governor of Tokushima Prefecture)
Amarin TV
Amarin TV is a general programming television channel owned and operated by Amarin Television, a subsidiary of Thai conglomerate TCC Group. Amarin Printing and Publishing Public Company Limited, a major publishing company in Thailand, bid for a digital terrestrial broadcasting license in 2013, and began broadcasting in 2014. Channel number is 34.The channel is popular as a general programming channel offering news, sports, variety, drama, and lifestyle programs.