"Kantele SDGs Week!" Starts Sep.20th !
Media Release
Released:
Kansai TV (Kantele) is promoting SDGs under our catchphrase "Smiles from Kansai - SDGs for Adults and Children." As part of our activities we have designated the five-day period from September 20th (Mon) to 24th (Fri) as "Kantele SDGs Week!" During this period Kansai TV will introduce a variety of SDG related initiatives through its programs.
Monday-Friday Belt Program "Yoi Don! (9:50 - 11:15) will introduce products available for order from shops involved in SDGs, and "Slow and Easy Routine" (14:45 - 15:45) will introduce "SDGs routines" that both adults and children can take up in their everyday lives. On Monday, September 20th , "Koyaburu SPORTS Super" (24:25-24:55) will report on the activities of ORIX Buffaloes with "SDGs through Sports", and our evening news program "News Runner" will also broadcast SDG related news and projects.
During this period, our head office will be lit up in the 17 colours of the SDGs goals, in order to visually promote awareness of the SDGs.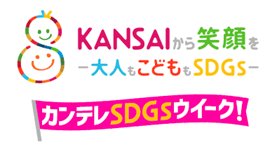 Our SDGs website (Japanese) has been launched on Friday 17 September.
The site will be updated with information introduced in the programs during "Kantele SDGs Week!" and footage of the illumination of Kansai TV's head office.
https://www.ktv.jp/sdgs/