Himawari: Miyazaki Legend
ひまわりっ~宮崎レジェンド~
Drama / 2020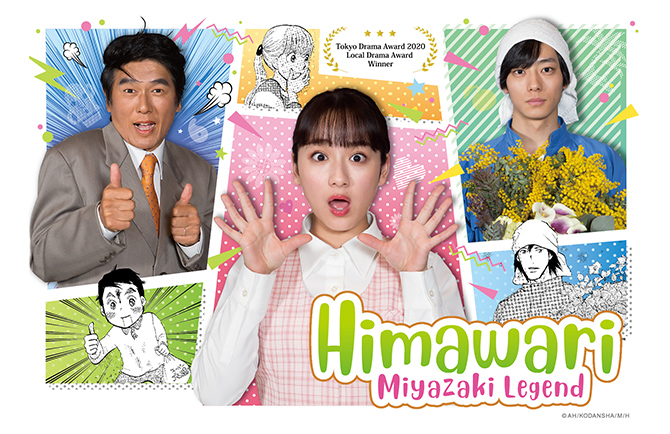 This is the Miyazaki local comedy based on "Himawari ~Kenichi Legend~" written by Akiko Higashimura from Miyazaki. It's legendary eccentric comedy. There are full of common sense in Miyazaki. Unfortunately, it's almost non-fiction!! Akiko (Yuna Taira) has graduated from Art University, and back to Miyazaki to work with her father, Kenichi (Katsunori Takahashi). The company is "Minami Kyushu Telephone". Kenichi is popular in his company because of warm friendly personality. Although, he laughs and gets angry suddenly, so his temper is unpredictable... His coworkers are very unique such as Kurumi Ebihara (Mai Oshima) and Sub-chief Saruwatari (Mayumi Sato). Kurumi really speaks her mind clearly and she used to be a gang. Also, Sub-chief Saruwatari is the most eccentric person in the company. Akiko pursues her dream to be a comic artist, while wrapped around the coworkers. Besides, the other story in this drama is "Love Romance" between Akiko and Kenichi Korogi (called No.2 Kenichi). No.2 Kenichi is working at "Nangoku Green Service" is associated company with "Minami Kyusyu Telephone" and he often shows up around her. He is good-looking and loves plants deeply, but he's not good at romance. Even though he tries to convey his love to Akiko many times, she doesn't even notice it. What will happen to their relationship!? Is Akiko able to achieve her dream!?
Details
| | |
| --- | --- |
| Genre | Love comedy/Family |
| OA Date | June 1, 2020 |
| Episodes / Duration | 10/#1-#10:15min |
| Credits | ©AH/KODANSHA/M/H |
Cast
Yuna Taira (平祐奈)
Katsunori Takahashi (高橋克典)
Yuki Inoue(井上祐貴)
Based on the Comic by
"Himawari: Kenichi Legend " by Akiko Higashimura originally published by KODANSHA LTD.
Script Writer